ZeroShock IV Advanced Netbook Case 8.9-10.2" - Black
Featured Reviews
spol
26/07/2011

Great product!

Purchased this product for my boyfriend's birthday. He had looked into lots of different cases and this was the best one! It has not disappointed and has travelled around Europe with us in a backpack!
Really good value for money, easy to order and fast delivery. Brilliant!

H2H
18/01/2010

Best case in the world?

I was looking for something that would protect my ultra-portable laptop from getting bashed. I'm so glad I found this because it really is super tough. The outside is made of very sturdy stuff and it feels very reassuring to know my laptop is safe. I also like the simple yet modern styling. It really compliments my Sony Vaio Laptop. The zips are nice and smooth and the outer side has a rectangular shaped shock absorbing rim. This is the first time i've seen this on a case.

Yes I would go as far as saying this is probably the best case in the world!

Read 9 customer reviews
Product Description
Why Buy the ZeroShock IV Advanced Netbook Case 8.9-10.2" in Black?
- Ultra-protective, shock absorbing Netbook Case
- Compatible with devices between 8.9 and 10.2 inches in size
- Dust-proof and water-repellent outer surface
- Reinforced edges for added protection
Building on the strong reputation of the ZEROSHOCK range, we are proud to introduce the brand new ZeroShock IV Advanced. Hugely popular in Japan, this new range is the best and most advanced yet.
The
ZeroShock IV advanced sleeve
incorporates a newly developed hollow centre ribbed construction which absorbs shock from lateral orientaion. The interior is made of light polyurethane foam (slow depression, slow return), while the dual layer exterior is made with EVA foam that absorbs shock from the outer perimeter. These advanced materials combine to provide a laptop sleeve with the best shock protection available.
The ZeroShock IV has been tested with Anti-Shock technology and unlike usual polyurethane its Low-resilience polyurethane can resist a shock of 130-200G when hit laterally by a falling 1kg weight.
The outer perimeter can withstand a force of 25-80G
when hit by the same 1KG weight.
ZeroShock IV cases are designed to be as
slim as possible, adding little to the size of your laptop
. This makes it ideal for using on its own or protecting your netbook inside a favourite bag or rucksack. The double-zip surrounds three sides of the case, allowing you to open it like a book for easy access. The zipper lip adds further protection which prevents the zip from scratching your laptop. Other features include an accessory pocket for small items such as a cable or USB dongle.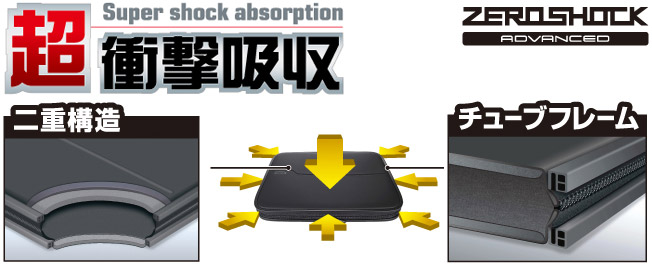 Product Features
- Low-resilience polyurethane (slow depression, slow return) for unrivaled shock protection
- Memory foam adapts to the shape of your notebook for a perfect fit
- Newly developed tube frame effectively absorbs horizontal shock
- Dust-proof and water-repellent outer surface
- Reinforced edges for added protection
- Inside pocket provides room for small accessories
- Dual-zip for quick and easy opening
- Inner lip prevents the zip from scratching your netbook
Compatibility
These cases are designed to fit most 8.9-10.2" netbooks, please check the dimensions below to confirm compatibility.
We can confirm the following netbooks will fit this case perfectly:
- Microsoft Surface Pro 2
- Acer Aspire One Series (up to 10.2")
- Asus Eee PC (up to 10.2")
- Dell Mini 10 / 10v
- Lenovo IdeaPad S10e
- MSI Wind (up to 10.2")
- Samsung N Series (up to 10.2")
* Please note we sell other size variations of this case. See the full
ZeroShock
range for more details.
Additional Information
| | |
| --- | --- |
| Product Number | 22758 |
| Manufacturer Code | 10175 |
| Brand | ZeroShock |
| External Dimensions (cm) | No |
| Internal Dimensions (cm) | 27.5 x 19 x 3.5 |
| Fits Laptops/Netbooks up to | 10.2" |
| Colour | Black |
| Case Material | Low-resilience polyurethane |
| Style | Sleeve |
| Warranty | 12 Months |
| Availability | No |
| Weight (kg) | No |