ZeroShock IV Advanced Laptop Case 13.3" - Black
Featured Reviews
tishtosh
01/02/2011

outstanding product

i have received the case and i'm very pleased. for the quality of the build and the materials used i think this is the best value you can get. the case fits my toshiba r 630 well, maybe a touch roomy. but the laptop is safe and secure when in the case. it also fits into any bag i want really which is a great help! my only advice is to buy before they run out of stock!

Looby
25/01/2011

The Business

This is a case you will not feel ashamed to bring into the Boardroom. A lovely feature is the wrap around zip that enables you to use your laptop in situ. A well designed, strong and attractive case. The business.

Read 27 customer reviews
Product Description
Building on the strong reputation of the ZEROSHOCK range, we are proud to introduce the brand new ZeroShock IV Advanced. Hugely popular in Japan, this new range is the best and most advanced yet.
The ZeroShock IV advanced sleeve incorporates a newly developed hollow centre ribbed construction which absorbs shock from lateral orientation. The interior is made of
light polyurethane foam (slow depression, slow return)
, while the dual layer exterior is made with EVA foam that absorbs shock from the outer perimeter. These advanced materials combine to provide a laptop sleeve with the best shock protection available.
The ZeroShock IV has been tested with Anti-Shock technology and unlike usual polyurethane its Low-resilience polyurethane can resist a shock of 130-200G when hit laterally by a falling 1kg weight.
The outer perimeter can withstand a force of 25-80G
when hit by the same 1KG weight.
ZeroShock IV cases are designed to be as slim as possible, adding little to the size of your laptop
. This makes it ideal for using on its own or protecting your netbook inside a favourite bag or rucksack. The double-zip surrounds three sides of the case, allowing you to open it like a book for easy access. The zipper lip adds further protection which prevents the zip from scratching your laptop. Other features include an accessory pocket for small items such as a cable or USB dongle.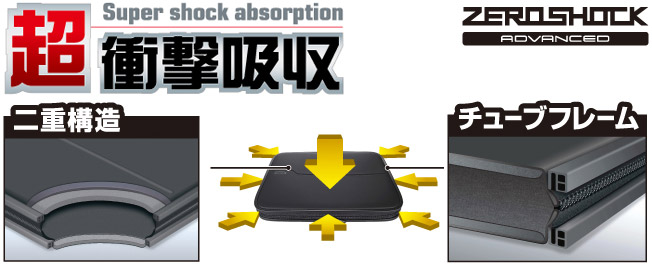 Product Features
- Low-resilience polyurethane (slow depression, slow return) for unrivaled shock protection
- Memory foam adapts to the shape of your notebook for a perfect fit
- Water-resistant outer material protects from rain and spills
- Reinforced edges for added protection
- Inside pocket provides room for small accessories
- Dual-zip for quick and easy opening
- Inner lip prevents the zip from scratching your netbook
Compatibility
These cases are designed to fit 13.3" Laptops and MacBooks, please check the dimensions below to confirm compatibility.
* Please note we sell other size variations of this case. See the full
ZeroShock
range for more details.
Additional Information
| | |
| --- | --- |
| Product Number | 22760 |
| Manufacturer Code | 10173 |
| Brand | ZeroShock |
| External Dimensions (cm) | No |
| Internal Dimensions (cm) | 33 x 23.5 x 4.5 |
| Fits Laptops/Netbooks up to | 13.3" |
| Colour | Black |
| Case Material | Low-resilience polyurethane |
| Style | Sleeve |
| Warranty | 12 Months |
| Availability | No |
| Weight (kg) | No |