ZeroShock III Netbook Case 10.6-11.1" - Black
Featured Reviews
Babbin
17/02/2013

Excellent quality product

Having recently been issued with an Acer netbook from one of my clients I wanted to protect my new toy hence I bought, with some doubt, this case. On arrival I was extremelly pleased with the quality and design. It protects my toy from scratches and physical damage. There are other cases on the market that might be cheapeer to buy but will not offer the same degree of protection ( you only get what you opay for) and this is why I bought it.
I have no hesitation in recommending this product to anyone.

Tosh
09/07/2009

It fits my Toshiba NB200

I bought this for my Toshiba NB200 which has a larger battery than many netbooks and doesnt fit many of the 10" cases. This Zeroshock case is a really good fit and accomodates the large battery. I like the memory foam it's made from and it seems to provide brilliant protection for the netbook. Good build quality and it looks the part too. A+

Read 2 customer reviews
Product Description
Keep your netbook safe with the impact absorbing ZeroShock III case. Hugely popular in Japan, this new range is the best and most advanced yet.
The core material is made from low-rebound polyurethane (slow depression, slow return) and combined with its wave-shaped design, this material offers unrivaled light weight shock protection, so bumps and knocks won't harm your netbook. The outside of the case is made from water-repellent polyurethane which looks great and protects your netbook from rain and spills. There is a zippered pocket on the front which provides room to store smaller accessories such as cables, memory cards, dongles etc.
ZeroShock III cases are designed to be as slim as possible, adding little to the size of your netbook. This makes it ideal for using on its own or protecting your netbook inside a favourite bag or rucksack. The double-zip surrounds three sides of the case, allowing you to open it like a book for easy access.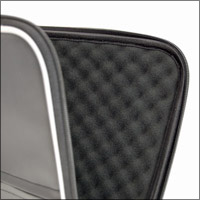 Product Features
- Low-resilience polyurethane for unrivaled shock protection
- Memory foam adapts to the shape of your notebook for a perfect fit
- Water-resistant outer material protects from rain and spills
- Zippered front pocket provides room for small accessories
- Reinforced edges for added protection
- Dual-zip for quick and easy opening
- Inner lip prevents the zip from scratching your netbook
Compatibility
These cases are designed for 10.6-11.1" netbooks, they are also ideal for larger 10" netbooks with extended batteries. Please check the dimensions below to confirm compatibility.

* Please note we sell other size and colour variations of this case. See the full
ZeroShock
range for more details.
Additional Information
| | |
| --- | --- |
| Product Number | 19910 |
| Manufacturer Code | 10118 |
| Brand | ZeroShock |
| External Dimensions (cm) | No |
| Internal Dimensions (cm) | 27.5 x 21.5 x 4 |
| Fits Laptops/Netbooks up to | 11" |
| Colour | Black |
| Case Material | No |
| Style | Sleeve |
| Warranty | 12 Months |
| Availability | No |
| Weight (kg) | No |