ZAGGmate Case with Keyboard for Apple iPad
Featured Reviews
Johnnywooo
08/02/2011

Great keyboard and cover

Really easy to set up and use and makes writing emails and using things like pages really easy.
The cover is great and protects the screen. When closed it looks very stylish

Johnnywooo
08/02/2011

Great iPad keyboard

I really love this keyboard and cover. The keyboard make writing emails and using pages really quick and easy. The cover is great and looks very stylish

Read 6 customer reviews
Product Description
With mentions on Engadget and other top tech sites, this amazing aircraft-grade aluminium case has the tech world excited. Made by Zagg who specialise in high tech innovations, the ZAGGmate is a real showcase of design, with a built in keyboard that turns your iPad into a netbook.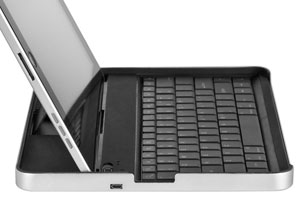 With a patent pending, you can be sure this case is on the cutting edge of technology. The case itself, is made from ultra high quality, durable aluminium, which has a stunning finish, providing excellent protection for your iPad. The aluminium used in construction of the ZAGGmate is bead-blasted with an anodized finish and matches the iPad perfectly. The interior uses military grade padding to protect against any knocks or bumps the ZAGGmate might endure.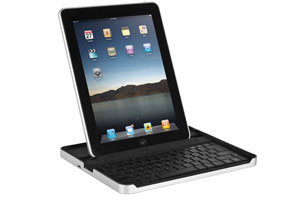 The iPad comes away with the ultra-thin case attached to the iPad, and neatly slots into the top of the keyboard, to provide a number of viewing angles, creating a docking station with a keyboard below it. The angles are ideal for media viewing and typing, and give you great flexibility, allowing you to set up the ZAGGmate to your own preference.
Key Features
- Aircraft grade aluminium with a bead-blasted, hard-anodized finish
- Drop protection from Military grade high-density padding
- Hinge system provides ten angles for viewing and typing in both portrait and landscape
- Large, flat base allows for use on a soft or uneven surface such as a lap or on a bed
- Keyword connects wirelessly via bluetooth
- Special function keys for music control, volume control, slidewhow, home, search etc.
Additional Information
| | |
| --- | --- |
| Product Number | 26803 |
| Manufacturer Code | No |
| Brand | ZAGG |
| External Dimensions (cm) | No |
| Internal Dimensions (cm) | No |
| Fits Laptops/Netbooks up to | No |
| Colour | Black, Silver |
| Case Material | No |
| Style | Hard |
| Warranty | 12 Months |
| Availability | No |
| Weight (kg) | No |