Wireless Bluetooth Number Keypad for Apple Mac
Featured Reviews
Fert658
03/03/2011

Excellent add on

Easy to install. Fits exactly to the mac keyboard and gives a delete key which is sadly missing off the main keyboard. Exact match in colour and style. Best buy.

Kernowguy
29/12/2010

Good quality easy to use product

I was pleased to find that my new iMac had a cordless keyboard and that it worked via bluetooth. I was disappointed that it did not have a numerical keypad as, although I don't do loads of figure work I have become used to having one. Since this is my first Mac it soured my experience slightly.

Apple didn't have an add on product but a little surfing turned up this one and I have been very impressed so far. It links easily to the main keyboard if needed or can stand alone. I have yet to test out the battery life yet but so far I am impressed with the quality of build. There is also a useful gizmo to turn off the main keyboard without disconnecting the keypad. It was a bit pricey but has made my keyboard complete.

Read 7 customer reviews
Product Description
Ideal for Apple Mac Users - this 28 Key Number Keypad adds a traditional number pad to your iMac, MacBook, Mac Mini or Mac Pro. The Keypad is specially designed to blend perfectly with the colour and modern design of your Apple Mac keyboard and computer. The optional linkage bar allows you to attach the Keypad to your Apple Bluetooth Keyboard. Alternatively, you can use the keypad independantly.
With integrated bluetooth, the Keypad wirelessly connects to your Apple Mac and is very easy to setup.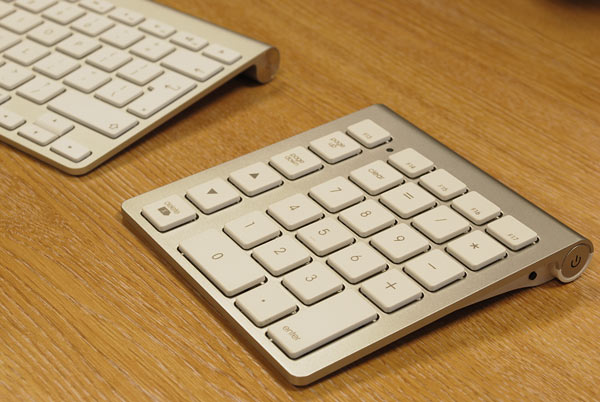 Key Features
- 28 Key Wireless (Bluetooth) keypad for easy and fast working with; tables, calculations, spread sheets, etc.
- Linkage bar connects the keypad seamlessly with the Apple wireless keyboard (A1314)
- The perfect alternative solution to the USB keyboard!
- Can be used as a stand-alone wireless keypad with any Apple Mac or bluetooth-enabled computer
- Keys include figures 0-9, operaton keys, hot-keys, page up/down, arrow up/down, delete forward, enter
- Designed to fit the Apple wireless keyboard in an elegant way
- Broadcom Bluetooth Chipset
- Power on/off, pairing button, power on bar for activating Apple wireless keyboard, LED status signal
- Scissor-type membrane keys for high comfort typing and reduced typing tiredness
- System requirements Mac OS X 10.5.x or higher
Specifications
- 85 g (including batteries)
- 130x125x18 mm (without linkage bar)
- 130x136x18 mm (including linkage bar)
- 2x AA Batteries Included
Additional Information
| | |
| --- | --- |
| Product Number | 26376 |
| Manufacturer Code | No |
| Brand | No |
| Dimensions | No |
| Warranty | 12 Months |
| Weight (kg) | No |
| Availability | No |