Ten1 Pogo Sketch Stylus for iPad, iPhone, Mac & Tablet - Pink
Product Description
Superbly designed using a light-weight aluminum alloy and detailed graphics, the Pogo Sketch in Pink features a look that's hard to ignore. The soft tip glides easily over the surface of your iPad display, Apple Mac/MacBook trackpad or Phone, making it fun and easy to sketch, take notes, or just slide to unlock. Sized for comfort, it does away with inaccuracies common to fingertip-only use.
Express yourself on the iPad. Fingers are great, but when you need accuracy, look no further than the Pogo Sketch Stylus - It's ideal for sketching and drawing! Check out these sketches, created using the iPad and Pogo Stylus: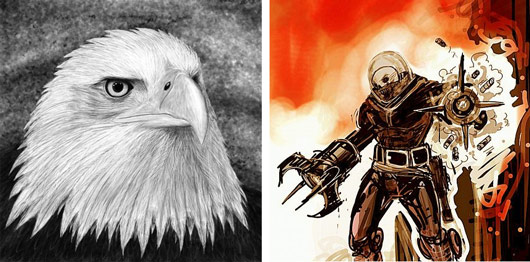 Wear gloves in the winter? We do. With an iPhone, the stylus allows you to answer calls and surf the web all while keeping your hands toasty.
Longer nails can be a problem with touchscreen devices. Using your Pogo Sketch, you'll soon find that problem is history!
Ten1 designed the Pogo Sketch to look comfortable and classy in any environment. The high-end anodized aluminum finish complements everything from your MacBook to your mother. Even the simple details like the logo were refined until they perfectly matched our vision for the product.
Some of the reasons you'll love your new Pogo Sketch
- Works with any combination of gloves and nails
- Allows you to use your touchscreen device or multi-touch trackpad at a natural drawing angle
- Typing on a software keyboard (especially at first) is much easier with a stylus
- Sign documents without printing or scanning!
- Sleek aluminum design with detailed graphics
Key Features
- The Pogo Stylus allows superb accuracy at any angle
- Lightweight alloy stylus feels comfortable to hold
- Excellent sensitivity which is ideal for sketching
- Slides smoothly and does not scratch
- Suitable for chunky fingers or long nails
- Designed for iPad, iPhone, iPod Touch and Mac Trackpads
- Also compatible with other smartphones and tablets with a capacitive touchscreen
Additional Information
| | |
| --- | --- |
| Product Number | 26059 |
| Manufacturer Code | No |
| Brand | No |
| Dimensions | No |
| Warranty | 12 Months |
| Weight (kg) | No |
| Availability | No |