Speck SeeThru MacBook Pro 17" Case - Clear
Featured Reviews
Firebyrd
16/08/2011

excellent service

The case fits perfectly and shows off the mac beautifully. Travelling and transporting is easier . The plastic feels a bit brittle and care should be taken when removing case to clean but it seems resilient when fitted and looks great.

frank
11/04/2011

Perfect

I have been looking for a good quality cover to show of my lovely new macbooc pro, a speck was recommended by the sales personnel at the apple store. I had a cover form another manufacturer on my old MacBook it was coloured and had an anti slip coating you could not really see the MacBook through the cover which I was the only thing that i was disappointed with. After a quick search through the web reading reviews I decided to have a go with the speck clear cover.

It's fantastic, easy to fit, a snug fit, and best of all you can see all the beauty of the MacBook pro, I have had this cover for about a month and I'm still impressed with the quality, it still as good as the day it was first put on, still nice and shiney, no scratches, much better than the other covers that have owned.

All portsts are accessible even the battery level buttons on the side are covered and work.
It arrived before the due date and was well packed, the simple instructions easy to follow.

All in all a marvellous cover at a very good price considering the quality, and a good service form GearZap.com

Read 2 customer reviews
Product Description
Silky-soft to the touch with the same protection as our trusted SeeThru line. Give your MacBook a smooth, semi-translucent frosted finish with a grippy edge. Allows you access to all your important plugs and drives while highlighting the unique look of your new MacBook Pro 17" (mid 2009/2010 onwards).
Key Features
- Protects your MacBook from scrapes and scratches
- Smooth yet grippy rubberized exterior texture
- Allows MacBook to be open all the way
- Fully vented for safe heat disbursement
- Totally removable -- easy to put on and take off
- Built-in rubberized feet keep your notebook stable and secure
- Cleaning cloth included
- Access to all ports, battery check button, CD/DVD drive
- Fits 17" MacBook Pro (mid 2009/2010 aluminum unibody/black keyboard)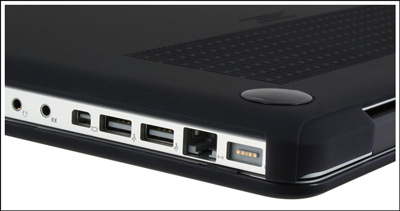 FAQ's
# Will it fit onto my MacBook?
This hard shell will fit on your MacBook Pro 17" (unibody/black keyboard) AND the new 17" MacBook Pro (mid 2009) model with SD card slot.
# Can I use all the features without removing the shell?
Our smart design lets you open and close your notebook all the way, and access all keys, sensors, ports and plugs through specifically-engineered cutouts. To access the battery door, easily snap off the bottom panel.
# What is it made of?
SeeThru Satin is made of our special hard polycarbonate plastic with an added soft-touch rubberized exterior coating to give it it's silky and grippy feel.
# Will this case cause my Macbook to overheat?
Nope! Our cases work with your computer's internal cooling system to keep your MacBook cool and safe. There are ventilation slots on the bottom of the case designed specifically for this purpose.
Installation
Installing your SeeThru Satin case on your MacBook is super simple and easy! First, gently dust off your MacBook before putting on your new SeeThru Satin. Close your MacBook and place the bottom shell on a table or hard surface. Press your notebook gently down into the shell until it snaps into the small tabs. Next, take the top shell and press it evenly down onto the top of your MacBook, applying pressure to the corners until it snaps snugly into place. To remove, pull the small tabs away from your notebook. If you are experiencing any difficulty, simply slip a credit card in the slot between your case and MacBook and pop off the tabs. We recommend removing the case periodically to dust or clean your MacBook.
Additional Information
| | |
| --- | --- |
| Product Number | 28560 |
| Manufacturer Code | MB17AU-SEE-CLR-D |
| Brand | Speck |
| External Dimensions (cm) | No |
| Internal Dimensions (cm) | No |
| Fits Laptops/Netbooks up to | 17" |
| Colour | Clear |
| Case Material | No |
| Style | Book Style, Hard, Skin |
| Warranty | 12 Months |
| Availability | No |
| Weight (kg) | No |