Mobile Broadband Outdoor Panel Aerial - Universal Connection
Product Description
3G Signal is often affected by external structures resulting in low signal within a building.This multiband ultra high gain panel aerial transmits your 3G signal in the direction of your nearest base station to ensure optimum signal strength.
Designed for use outside, the antenna is designed to be mounted on a wall or a mast and made from a tough engineering grade plastic that is waterproof and UV stabilised and can withstand any weather conditions.
These 3G panel antennas are directional and need to be installed facing your nearest transmitter, but once pointed they offer unparalleled 3G transfer speeds and signal strength.
Key Features
* Directional - The antenna needs to point in the direction of the network transmitter.
* Mast or Wall mountable - The antenna is designed for permanent installations.
* Wall fixings and 5 metres of cable included.
* Enhances 3G & GPRS signal strength
Connector
This antenna comes fitted with a universal adapter ready for use with your USB Modem.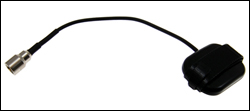 Connecting The Antenna
This antenna comes complete with a 5 metre cable included. 3 metre extension cables and 5 metre extension cables are also available.
Technical Specification
* Dimensions (mm) 93 x 93 x 25
* Gain : up to 11dBi (Very High Gain)
* Cable Length (m) 5
* Connector: Universal
* Frequencies GSM900, GSM1800, PCS1900 & 3G UMTS 2100
Compatibility
BT Huawei: E170
Huawei: E160G, E166, E170, E176, E216, E219, E220, E230, E270, E510
O2: USB Stick
Option: 225, 510
Option : Icon
Orange: Icon, MF330, Option 225
Sierra Wireless: 875U
T-Mobile: 510, 530, E170, E220
Three: MF622, E169G, E220, MF627
Vodafone: E270, USB Stick
Vodafone : USB Stick Lite
ZTE: MF330, MF622, MF627
Further Information:
Which Mobile Broadband Aerial do I need?
How to Improve your 3G Mobile Broadband Signal
How to Install your Mobile Broadband Aerial
Additional Information
| | |
| --- | --- |
| Product Number | 21427 |
| Manufacturer Code | No |
| Brand | N/A |
| Dimensions | No |
| Warranty | 12 Months |
| Weight (kg) | N/A |
| Availability | Show in stock only |
You may also be interested in the following product(s)