Martin Fields iPad Screen Protector
Product Description
An indispensable accessory for those that want to keep their Apple iPad screen in pristine condition. Protect your iPads expensive and fragile screen from damage and scratches.
Scratch Resistance
Impact damage from keys, coins and pens can damage fragile LCD screens and cause premature display failure. Martin Fields patented scratch resistant coating protects from daily damage, whilst providing exceptional durability even during extended use.
Clarity
Exceptionally clear, designed to allow maximum light transmittance, whilst reducing monochromatic abnormalities, giving enhanced colour reproducibility and image sharpness. Polarised anti-glare coating helps to reduce eye strain when using Martin Fields Screen Protectors. Other screen protectors use diffused reflection to reduce glare, resulting in lower colour reproduction and dull monochromatic coloration.
Tactile Feel
Improved textured finish on all Martin Fields Screen Protectors makes them perfect for using with stylus based devices. Papered texture provides increased friction when using a stylus, to enable the stylus to be more accurate and prevent slipping.






Features
- The UV filters reduce the strain on your eyes by blocking 99% of ultraviolet rays radiated from LCD screens.
- Protects the LCD screen from premature degradation as a result of strong sunlight.
- High scratch resistance.
- Easy to apply, precise fit.
- Removable, durable, reusable and washable.
- Made in Japan using the latest laser cutting technology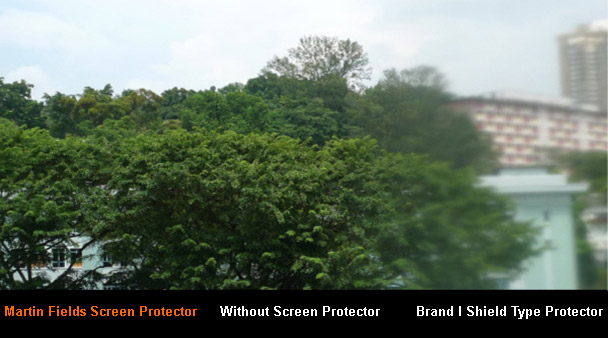 Press Reviews

Well, I must say, the Martin Fields screen protector certainly lived up to my expectations! After applying the protector and using it I found my screen to be very bright, smooth against the stylus, and resistant to any type of scratch or mark. What more can you ask of a screen protector? Nothing, really. I've found my new favourite screen protector! -Devin Henderson, Pocketnow.com

"It wasn't until I actually installed an Overlay on my Tapwave Zodiac that I realized that this is the clearest adhesive protector I have ever used. When I say clear, I mean crystal. There is no hint of even the slightest glare-reducing frost effect that I have grown used to with other long-lasting adhesive protectors. There is no "paper feel" texture to add opacity to the protector. In fact, the best way to describe a properly installed Martin Fields Overlay is like this: brand new screen... Seriously! - Judie Hughes, Gadgeteer.