InvisibleSHIELD Full Body Protector for Amazon Kindle Keyboard
Product Description
Custom designed for the Amazon Kindle Keyboard, theThe InvisibleSHIELD is made from the most advanced materials, making it the toughest and most durable protective film for gadgets on the market. The
Full Body
Protector is designed to not only protect the screen but protect the whole body of the Kindle from scratches. The film has its origins in the U.S. military, where it was used to protect the leading edges of helicopter blades from wear and tear while travelling hundreds of miles per hour. Our proprietary film is a clear, urethane plastic (invisible, invincible) with unique properties that allow it to provide self-healing qualities and unparalleled abrasion resistance. The film's flexibility allows us to custom design the invisibleSHIELD to
protect your entire device
, including the sides, edges, screen, front and back.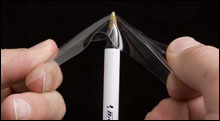 No matter how careful you are, without protection, your screen will get scratched. It's just one of life's problems. All it takes is one piece of dust so small you can't even see it - it get's stuck between two moving surfaces - and your screen is scratched. The only way to truly protect your device is with the invisibleSHIELD, and the time to do it is the moment you take your new device out of its box. Giving you the ultimate in screen protection, the InvisibleSHIELD saves your screen from scratches without compromising on screen quality.
Features
- Invisible protection.
- Custom design for your device.
- Lifetime guarantee.
- Scratch proof.
- Includes special application adhesive and full instructions.
- Easily removable without leaving marks on your device.
Additional Information
| | |
| --- | --- |
| Product Number | 25717 |
| Manufacturer Code | No |
| Brand | ZAGG |
| Dimensions | No |
| Warranty | 12 Months |
| Weight (kg) | No |
| Availability | No |