Hard Candy Bubble Shell Case for Asus Eee PC 1005HA - Clear
Product Description
Stand out from the crowd and add some personalization and protection to your Asus Eee PC 1005HA with Hard Candy's Bubble Shell case. Available in a variety of colours, these snap-on, always-on cases provide protection from scrapes and scratches while adding personality to your Netbook. These cases are designed to fit the Asus Eee PC 1005HA perfectly, keeping your netbook as slim as possible.
Key Features
- Tough Polycarbonate Shell protects from Bumps & Scratches
- Easy to use Snap-On Always-on design
- Bubble texture creates a unique design statement
- Made to fit perfectly, allowing access to all connections and controls
- Features recycled paper packaging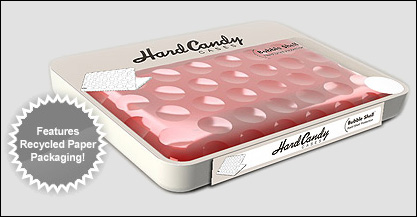 Are you the kind of person that's always...
• Throwing their netbook in a backpack?
• Taking it from classroom to classroom?
• Taking it from meeting to meeting?
• Constantly unpacking at airport security?
Or are you the kind of person who...
• Loves color?
• Likes to stand out from the crowd?
• Appreciates fashion?
How to Install Your Hard Candy Case:
Installing your Hard Candy Bubble Shell case on your Asus Eee PC 1005HA should be super simple and easy! First, we recommend dusting, or cleaning your netbook, reducing the chances of dust scratches. Place the bottom of your Bubble Shell on a table or other hard surface. While making sure that your netbook is completely closed, press your computer gently into the case bottom until it snaps into place. Make sure to apply pressure to the corners ensuring proper fit into all the tabs of the case.
Once your Bubble Shell case bottom has been installed, you can install the top in the same fashion. Again, be sure to apply pressure to the corners of your Bubble Shell case in order to seat it properly until it snaps into place.
If you are experiencing difficulties fitting, we recommend using a credit card to separate the case from the computer. Simply slide the card between the case and your Asus Eee PC 1005HA near the tabs, and once the case is off, try fitting again.

Additional Information
| | |
| --- | --- |
| Product Number | 22782 |
| Manufacturer Code | BS-ASUS-CLR |
| Brand | Hard Candy |
| External Dimensions (cm) | No |
| Internal Dimensions (cm) | No |
| Fits Laptops/Netbooks up to | No |
| Colour | Clear |
| Case Material | Polycarbonate |
| Style | Book Style, Hard, Skin |
| Warranty | 12 Months |
| Availability | No |
| Weight (kg) | No |