foofbag MacBook Pro 15" Sleeve - Tsunami
Featured Reviews
Phil
20/04/2011

Quick Delivery, Quality Product.

I exchanged a Jivo Suit for one of these because of a lose thread on the sleeve. Since getting this foofbag it is obviously superior, as stated in the product description your mbp will not fall out even when pointed towards the ground! I didn't believe it until I tried it myself. Also the construction is sound; no chance of it falling apart like my last one, but then I've only had the foofbag a month. It's also great that it doesn't have a zip, so there's no chance of scratching your laptop.

iSammie
18/05/2010

foofbag - Tsunami for Macbook Pro Unibody 15" (2010)

Thanks very much to Gearzap.com for their fast and reliable service, I received the item within 6 days (UK to ITA). Although i would have bought it from the foof's official website, I tried to find a reseller for avoiding an eventual VAT added to the item, and here I found Gearzap!


But let's get into the review now:

>package: good quality one both from Gearzap.com and foofshop.com. The product was impossible to ruin unless the delivery operator wanted to rip it off.

>quality of the item: I was surprised on how soft is the inside of the foofbag, and how it will not degenerate as fast as other similar products does. Talking about the outside, it's well made and doesn't smell that bad of some unknown, toxic product used for colouring it. Quality materials.

>usability: basically it is impossible to scratch your precious Laptop by using this sleeve, unless you put it inside a bag that has free contundent objects moving around when carried over.(personally I put it inside a Eastpak "stanley model" with padded foam laptop zone, which is pretty good and never gets scratched) Not to mention the time for take out/put inside the Apple Laptop, it's in the order of split seconds. And the fitting is good. Try think to give your mbp a soft, warmy, made by measure little coat.

>security/handling: what I mean by security, is not that it has an alarm sistem, antithief mode or whatever, but that if it is ->secure<- for your mbp? Frankly, I'd say yes. Even if you keep with one hand the foofbag with the wide open pointed to the floor it wont slip off that easily as suspected (although you would NEVER come to think/try doing a similar thing, wouldn't you?).

>pro/cons:
+ High Quality materials
+ No scratch for your mbp by using it
+ specifically made for recent laptop macs
+ No annoyingly zips, velcros, and such things that can lead your mbp to scratch
- Only officially sold by foofshop.com located in AU
- Hard to find resellers
- Not all foofbag models here on Gearzap.com

overall: foofbags really sums it up: Simplicity, Maximum scratch protection, Original design, and Well made craftsmanship, needless to say awesome too.

rating: 5 out 5
sources: a happy foofbag tsunami owner & Gearzap.com customer.

Read 3 customer reviews
Product Description
'Tsunami' - a classic Japanese wave motif, in beautiful greyscale cotton for MacBook Pro 15".
Protect your MacBook in a beautiful fabric sleeve cover that's snug fitting & soft padded in sherpa fleece, protecting it from scratches & things that go bump.
A foofbag is a slot loading MacBook sleeve (with an opening at one end) designed for quick & easy removal without those annoying zippers, clips, latches or straps. We use beautiful hard wearing fabrics that often out live the MacBook it's designed to protect.
The foof foofbag sleeve for MacBook Pro 15" is made from 100% cotton - wide wale corduroy and sherpa fleece inner lining. This is a totally unique sleeve that's designed to protect your MacBook and impress your friends.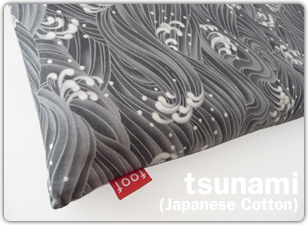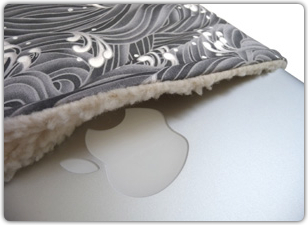 What are the pros of a foofbag?
A foofbag is great for indoor use (home, office, conference, hotel, library, studio, university etc) and for inside a backpack or tote bag when traveling. It also works well for the occasional journey from the car to the cafe. It's quick and easy to remove your MacBook.
A foofbag excels when used with a backpack (with the opening facing up). You can just pull the MacBook or iPad out and leave the foofbag inside the backpack. Useful if you have to do security checks at airports, or if you frequently need to whip your MacBook or iPad out to check your emails when traveling.
What is the inner lining?
Sherpa fleece, which is made from acrylic and polyester, but feels and looks like a sheeps fleece. It's bonded to faux suede (polyester) and a 3mm layer of foam (non compressing).
I have questions about fluff and pilling with sherpa - will it scratch, is it thick enough?
No, it's plush and high quality. It won't pill, it won't shred and definitely will not scratch.
Will my MacBook slip out?
Your MacBook should not slip out on it's own, unless you happen to point the foofbag opening to the ground and loosen your grip and start to shake it out. It's not the sort of thing you should be doing anyway, as unibody MacBooks are pretty slippery (with or without a protective sleeve).
Comments
"i've been looking for something as simple and elegant as your foofbag for about 10 years"
"i LOVE my foofbag and in the short time I've been using it, I've already gotten dozens of compliments"
"Just wanted to let you know that I have received my fantastic Foofbag! What a great piece of kit, so nice to be able to get something so different to all the readily available Macbook cases."
Compatibility
Designed to perfectly fit the MacBook Pro 15".
Additional Information
| | |
| --- | --- |
| Product Number | 24459 |
| Manufacturer Code | No |
| Brand | Foof |
| External Dimensions (cm) | No |
| Internal Dimensions (cm) | No |
| Fits Laptops/Netbooks up to | 15.4" |
| Colour | Grey, Patterned |
| Case Material | 100% Japanese cotton, sherpa fleece inner lining |
| Style | Sleeve |
| Warranty | 12 Months |
| Availability | No |
| Weight (kg) | No |