DAGi Capacitive Stylus Pen for iPad & Tablet
Featured Reviews
Sharon
14/01/2012

Works well

Great for writing and drawing - easy to use with a little practice

henry mitchell
12/07/2010

works well

i have quite large fingers which make it difficult to use my ipad. this was the perfect solution and allows me to work quickly without pressing incorrect buttons or keys.

the stylus has a totally clear nib which makes it ideal because you can see exactly what you are pressing. i was a little worried that this would not work very well on the ipad, but glad to report it is just as responsive as using your fingers.

A*

Read 6 customer reviews
Product Description
The DAGi Capacitive Stylus Pen is designed specifically for capacitive screens found on modern touch screens including the iPad, iPhone and tablet or touch screen computers.
Control your device without using your finger. The Stylus has a sensitive transparent head which allows you to see exactly what you're pressing to avoid opening the wrong application or typing the wrong key.
The DAGi Stylus is ideal for people who want to improve their speed and accuracy when using the iPad. It's also perfect if you have chubby fingers or long fingernails which make it difficult to use the iPad normally.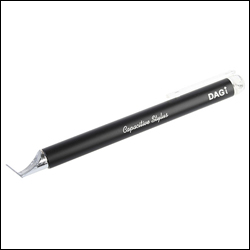 Key Features
- Transparent head
- Power free
- Easy to aim at small icons and text
- Easy to play games
- Accuracy
- Slide smoothly
- Sensitivity and light action force
- Easy to do handwriting
- Easy to edit: Cut / Copy / Paste
- Easy to browse website
- Suitable Drawing / Pen Memo
- Suitable the user with fat finger / long nail
- Does not scratch
Additional Information
| | |
| --- | --- |
| Product Number | 23624 |
| Manufacturer Code | No |
| Brand | No |
| Dimensions | No |
| Warranty | 12 Months |
| Weight (kg) | No |
| Availability | No |