CruxCase Crux360 iPad 3 Keyboard Case
Product Description
Why Buy?
- Gives your iPad 3 excellent protection against damage
- Stunning design complements the iPad 3
- Built-in keyboard is quick and easy to type on
- Connects quickly and easily via BlueTooth
- Multiple viewing angles for comfortable use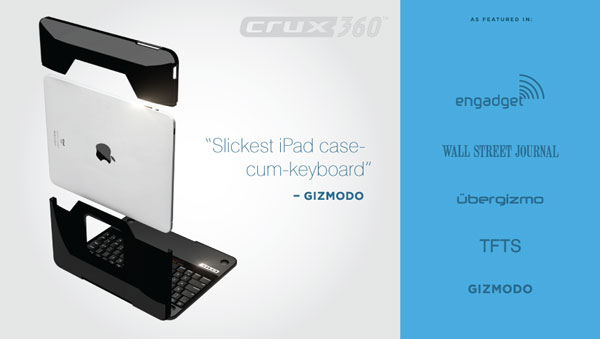 This has to be one of the most stylish integrations of a keyboard into a case we've seen yet. The ClamShell iPad 3 case with built in keyboard by Crux is a stunning example of some cutting-edge engineering.
The case provides excellent protection for your iPad 3 with its tough case design, which covers both the front and back of the iPad 3. The built in keyboard is comfortable to type on, turning your iPad into a mini laptop which is much easier to use than typing on the screen. The iPad 3 can be positioned in a number of different ways including:
- Laptop mode - giving full use of the built in keyboard
- Move movie - which gives you the perfect stand angle for surfing, watching movies or playing games
- Tablet mode - great for reading comics or books
- Carry mode - for the best protection when not in use, the clamshell design protects all of the iPad 3
Additional Information
| | |
| --- | --- |
| Product Number | 34618 |
| Manufacturer Code | No |
| Brand | No |
| External Dimensions (cm) | No |
| Internal Dimensions (cm) | No |
| Fits Laptops/Netbooks up to | No |
| Colour | Black |
| Case Material | No |
| Style | Hard |
| Warranty | 12 Months |
| Availability | No |
| Weight (kg) | No |