CruxCase ClamShell iPad 2 Keyboard Case
Featured Reviews
Trooper
12/12/2011

Quality design

Who would have thought that getting a tablet instead of a laptop would lead me to buying this case to turn my tablet into a laptop?! It's honestly great. So much more comfortable to work on when I'm on the train each day, and the quality of design and manufacturing is second-to-none.

MutantCatMan
28/11/2011

Excellent Quality Product, solidly built, lives up to the high expectations I had

Beats all the shop sold cases I looked at hands down for quality and price. Very solid unit, strong and very flexible hinge mechanism. Impressed several Apple addicts who queried intially the need to get such a good case and bluetooth keyboard (which integrated seamlessly), rather going for a laptop in the first case. 1 millimeter gap is the only slight negative otherwise would have given it 5 stars, packaging and delivery great.

Read 2 customer reviews
Product Description
Why Buy?
- Gives your iPad 2
excellent protection against damage
- Stunning Design
complements the iPad 2 perfectly
- Built in Keyboard is
easier to type on than the screen
- Solid case provides
excellent protection
- Connects
wirelessly and easily
via BlueTooth
- Multiple viewing angles allow you to
use the case in many different ways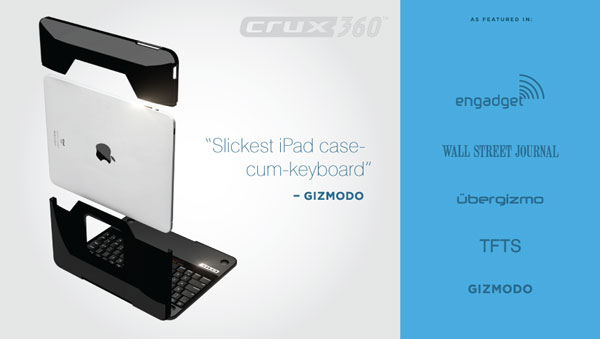 This has to be one of the most stylish integrations of a keyboard into a case we've seen yet. The ClamShell iPad 2 case with built in keyboard by Crux is a stunning example of some cutting-edge engineering.
The case provides excellent protection for your iPad 2 with its tough case design, which covers both the front and back of the iPad 2. The built in keyboard is comfortable to type on, turning your iPad into a mini laptop which is much easier to use than typing on the screen. The iPad 2 can be positioned in a number of different ways including:
- Laptop mode - giving full use of the built in keyboard
- Move movie - which gives you the perfect stand angle for surfing, watching movies or playing games
- Tablet mode - great for reading comics or books
- Carry mode - for the best protection when not in use, the clamshell design protects all of the iPad 2
Additional Information
| | |
| --- | --- |
| Product Number | 31485 |
| Manufacturer Code | No |
| Brand | No |
| External Dimensions (cm) | No |
| Internal Dimensions (cm) | No |
| Fits Laptops/Netbooks up to | No |
| Colour | Black |
| Case Material | No |
| Style | Hard |
| Warranty | 12 Months |
| Availability | No |
| Weight (kg) | No |