Cool Bananas 'BulletProof' Hard Cover iPad Case - Black
Featured Reviews
Chippy
12/03/2011

What I think of this case

Needed a strong case for my iPad and this was the ideal product! It did exactly what it says on the box, and buying it from this website was ideal, very fast delivery and at a really good price. 10/10 ..... Brill

Ben
12/07/2010

Tank Proof!!

wow... I am amazed with the ruggedness of this iPad case. while it's not actually "bulletproof", it will certainly prevent any damage to the iPad when it's inside this case. The outside is very hard, while the inside is lined with a dense memory foam and soft microfibre.

I was looking for something that I could put my ipad in when it's being thrown about inside my rucksack. this fits the bill perfectly.

Quality 9/10
Value 9/10
Protection 10/10

Read 3 customer reviews
Product Description
The Cool Bananas 'Bullet Proof' iPad Hard Case is made from sturdy shock-resistant materials that deliver unrivaled protection for the iPad. The outside is constructed from a crush resistant EVA hard shell, while the inner core is made from shock-absorbing memory foam that absorbs knocks and drops.
The durable double zip with rubber pullers make it quick and easy to get access to your iPad. On the inside the soft inner lining and zipper lip will prevent scratches, while the fixing belt holds it securely in place. The inside mesh pocket allows room for smaller accessories such as cables etc.
This case is ideal for business and casual use and can be carried on its own or to protect your iPad inside another bag such as a rucksack or suitcase.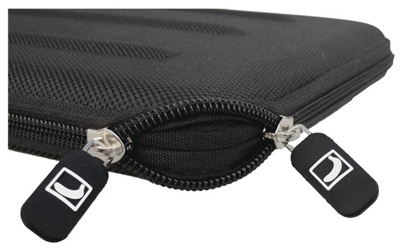 Key Features
- Crush resistant EVA hard shell
- Shock-absorbing memory foam core
- Rubber zip pullers
- Inner zipper lip prevents scratches
- Interior mesh pocket
- Protects against scratches, shocks and dirt
- Pefectly fits the iPad
Additional Information
| | |
| --- | --- |
| Product Number | 24762 |
| Manufacturer Code | 9042436 |
| Brand | Cool Bananas |
| External Dimensions (cm) | 26.5 x 21 x 2.8 |
| Internal Dimensions (cm) | No |
| Fits Laptops/Netbooks up to | No |
| Colour | Black |
| Case Material | EVA Hard Shell / Memory Foam |
| Style | Hard, Sleeve |
| Warranty | 12 Months |
| Availability | No |
| Weight (kg) | No |
You may also be interested in the following product(s)