Cool Bananas 'BulletProof' 13.3" MacBook Hard Cover - Red
Featured Reviews
Macbook
03/01/2011

Stylish and practical but probably not actually bullet-proof

Bought this case for Xmas to protect my daughter's MacBook round the house and when she visits friends, and it is just the job. An exact fit, it is well-made and sufficiently stylish to keep up with Apple without breaking the bank. The shoulder strap is a very good idea and makes it easy to carry. This is a durable item which is a much more worthwhile purchase than many of the "skins" on offer for the same sort of price, which amount to zip-up foam covers, suitable for keeping the scratches off while it is in a rucksack but not much else. This is a case that you can carry in its own right.

It is however lacking anywhere to store the power supply, in common with most of the market competitors.

Four stars only because it describes itself as "bulletproof". Not that I have put it to the test you understand, but in my opinion this is quite an exaggeration. This case will certainly protect the laptop ok, but ultimately it is just a firm but slightly flexible case with little padding. I would not recommend as a substitute for body armour in life-threatening situations (unless I am missing something and it is really made of kevlar).


Read 1 customer reviews
Product Description
The Cool Bananas "Bullet Proof" Hard Case is made from sturdy shock-resistant materials that absorb knocks and bumps. It has a removable strap for using as a shoulder bag, plus soft handles for comfortable carrying. The durable double zip with rubber pullers make it quick and easy to get access to your MacBook.
On the inside the soft inner lining and zipper lip will prevent scratches to your netbook, while the fixing belt will hold it securely in place. The case is designed to accomodate all 13" MacBooks. There is an inside pocket which provides room for very slim accessories such as memory sticks, cables, dongles etc.
This case is ideal for business and casual use and can be carried on its own or to protect your MacBook inside another bag such as a rucksack or suitcase.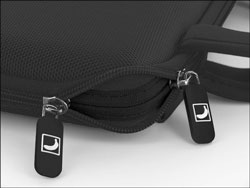 Compatibility
This case will fit most Laptops and MacBooks with a screen size up to 13.3". This includes MacBook and MacBook Pro.
Additional Information
| | |
| --- | --- |
| Product Number | 22812 |
| Manufacturer Code | 9042219 |
| Brand | Cool Bananas |
| External Dimensions (cm) | No |
| Internal Dimensions (cm) | 33 x 23 x 3.8 |
| Fits Laptops/Netbooks up to | 13.3" |
| Colour | Red |
| Case Material | EVA Hard Shell |
| Style | Bag, Book Style, Hard, Sleeve, Briefcase |
| Warranty | 12 Months |
| Availability | No |
| Weight (kg) | No |